Françoise Dieudonné Ruetch discovered open water in 2018 when she celebrated her 53rd birthday. Four years ago, he was a loyalist among the EDF Aqua Challenge faithful and has participated at least once in 10 of the 13 circuit stages!
Sunday July 3, 7 am, Etoile nautical base. Despite the morning hours being better for diving, Françoise Dieudonné Ruetsch was all ears as the organizers of the Verdon Swim Experience gave final instructions for the 6 kilometers starting a few minutes in the direction. in the Grand Canyon. There is no question that the fifties were wrong on this course that he wanted to know. "With Paul, my husband and my driver, we left at 2h45 from Carpentras. We brought two road training companions who I was inspired to join me and here we are. We even saw a fox and two deer on the road " Françoise laughed, apparently awake and ready to face this new challenge.
Leaving home at 2:45 in the morning to start the 6 km Gorges du Verdon, Françoise concentrated on the explanations given by the organizers. Photo: Jean-Pierre CHAFES
If for some the day race is a simple style exercise, it is different for someone who admits it is too late to swim. "Initially I was a gymnast but I was a roller skating instructor and I even participated in the 24 Hours of Le Mans in this discipline. On the other hand, my first swimming license, I got it in 2018 in Carpentras, at the age of 53 ". But – and this isn't the slightest bit of originality for this atypical swimmer – not if no one has previously participated in three open water races during the summer. "The first time was 1 kilometer to Monte-Cristo, in June. When I arrived (41st in 31'32 ": editor's note), I was so happy with myself that I looked like a kid who didn't want to get off at the end of his ride. In August, I made the 1 mile to Annecy and in September to Millau where I finally died. I did that to myself while looking at 5km, that I will do the same when I grow up " Françoise laughed again who nevertheless never stopped achieving her goal. To the point that when his trainer told him he wasn't "It's no longer the age to wait to do a 5 terminal"the Carpentrassienne will exceed. "There's obviously a lot of technical work because I've never finished swimming yet, but last June, I finished the 5 kilometers of the Monte-Cristo challenge (at 1h48': editor's note) ".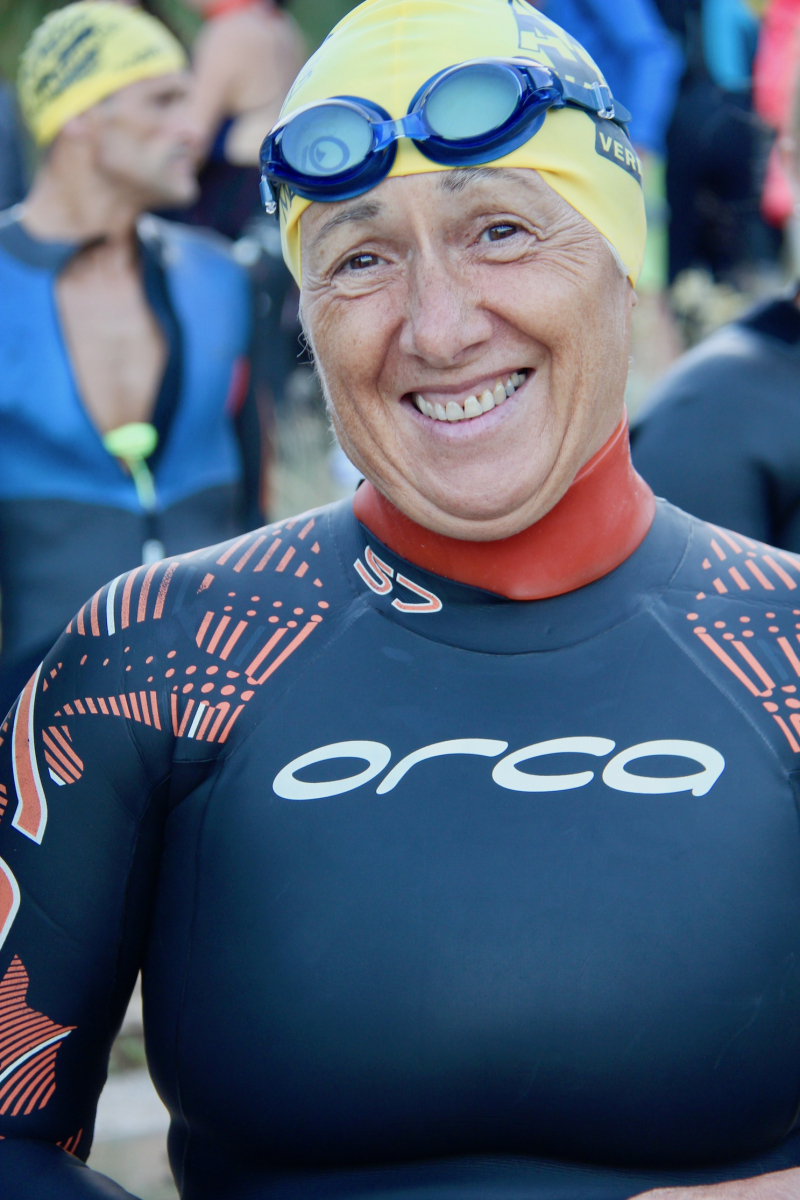 Until then, Françoise has not swum more than 5 kilometers in open water. That didn't stop him from smiling at first. Photo: Jean-Piere CHAFES
A first to call many more since next year, in 2021, Françoise has participated in 17 races and finished 3rd in the Coupe de France in the Masters 2 category (45 years and up)! And if he admits he was a bit caught up in the game and sometimes chained to two events over the weekend to score points (in the Six-Fours on Saturday, in Dijon on Sunday!), The insurance employee is a big that French society is grateful for. above all to travel around France according to the competitions in which it participated. Especially those in the EDF Aqua Challenge "I've done the Monte-Cristo challenge many times, Cannes, Martigues, Serre-Ponçon, Annecy, Nice, Six-Fours. But also Vichy and Quiberon, two places I haven't been to before and that I've discovered with joy. And so this year the Gorges du Verdon. I made no secret that in the canyon, I watched a stroke on the right, a stroke on the left to admire the view. It was a magic ".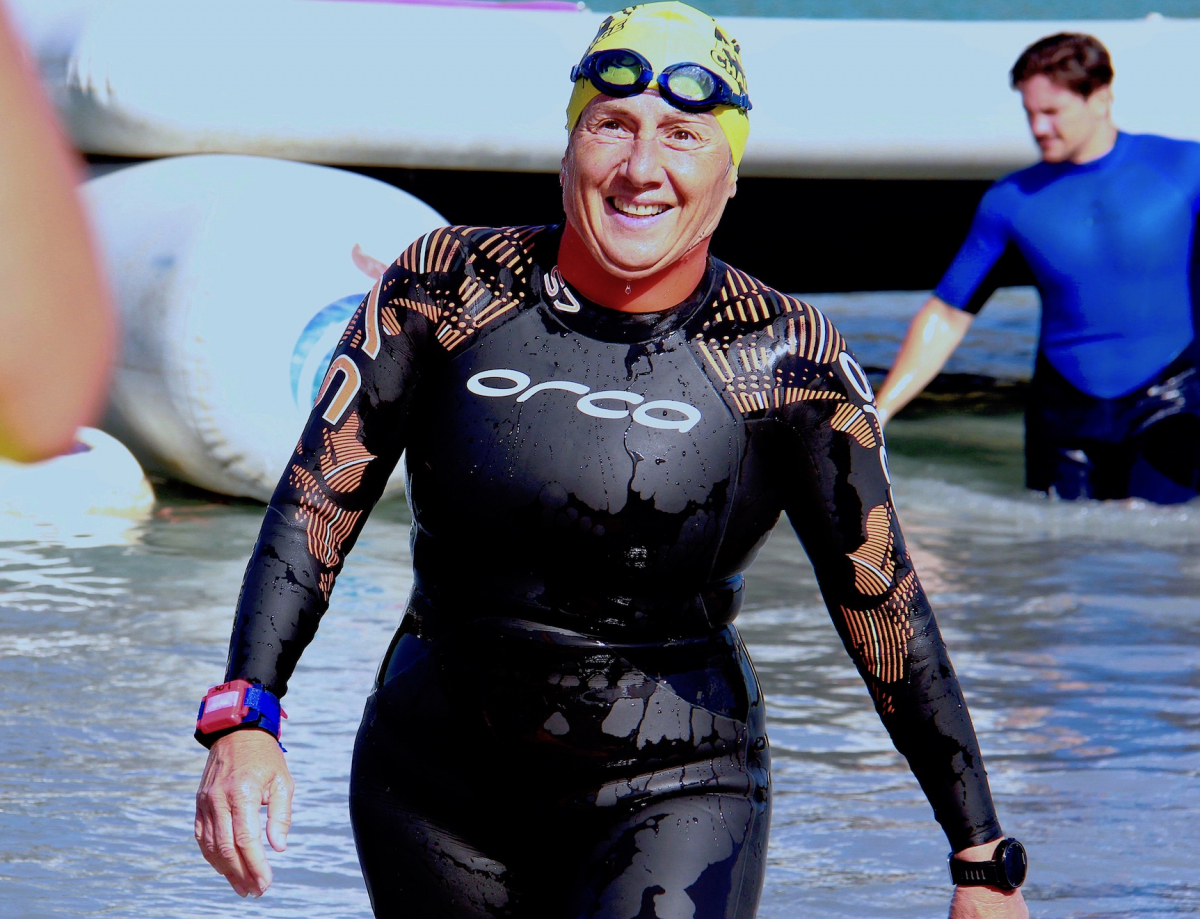 There, it was over. The 50-year-old reached his goal and completed 6 terminals in just 2 hours. Photo: Jean-Pierre CHAFES
Also inspired by the fact of being able to rub shoulders with the biggest names in the discipline -like Nice where she started in 5 terminals with an Aurélie Muller -, Françoise once again created a full program.. "I was planning to go to Serre-Ponçon which was sadly canceled, but I registered in Annecy for 2.4km, in the Six-Fours for 7.5 and in Nice for 10". One who has been missing a few years from being in a new state of being an experienced swimmer has the intention of seeing even bigger, and above all longer. "With clear water, I do things I can't do on my own. For example, a 10 kilometer, my goal this year ". At 57, Françoise doesn't seem to have decided to put the jersey in the locker room. Quite the opposite. "What inspires me is telling myself that I have the courage to do it at my age. And in any case if the arms can no longer think, I will continue with a monofin " laughed the friendly fifty one last time before returning to new adventures.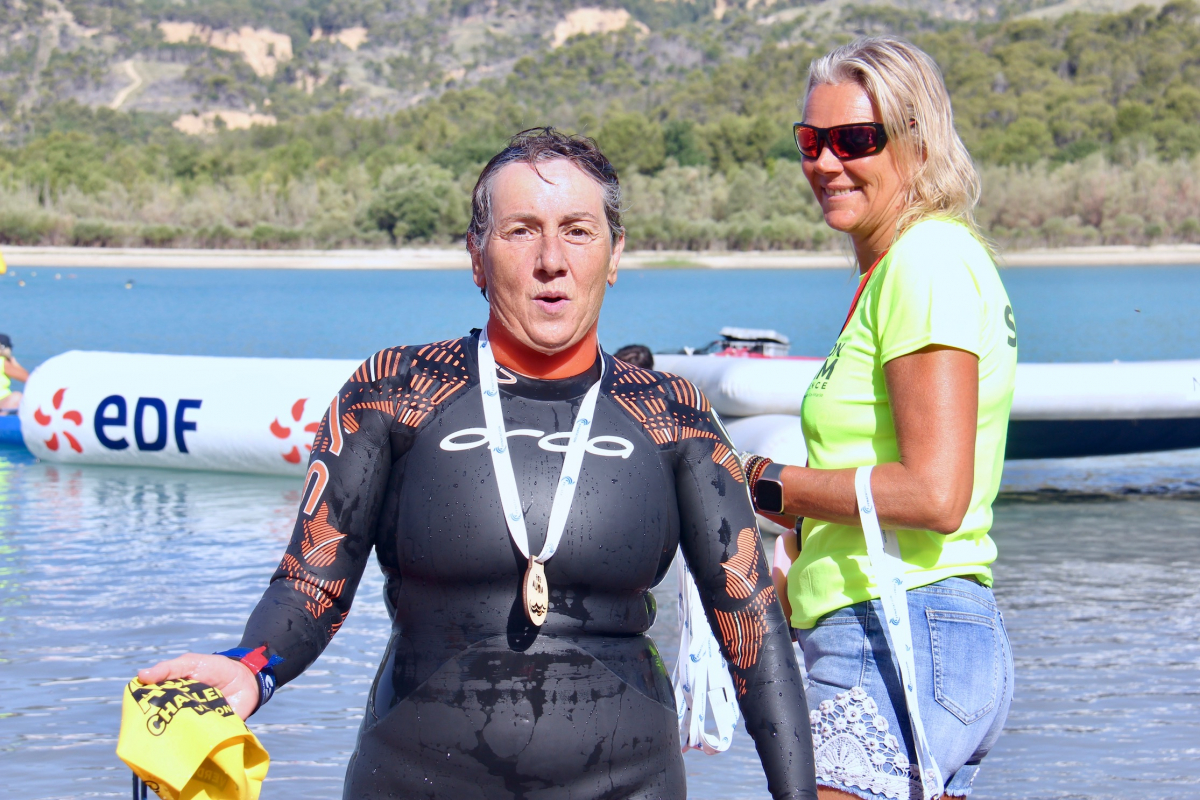 Françoise promised: we'll see her in other stages of the EDF Aqua Challenge where other challenges await her. Photo: Jean-Pierre CHAFES