"A Land". The theme of the competition was "Live painting" organized by Le Défi Media Group as part of a series of activities held on the occasion of World Environment Day. Of the 16 participants, four were awarded.
Nidhi Groodoyal, 24: "I want to show both sides of the world …"
"My painting wants above all to represent the discontent of the world in the face of environmental degradation but also of those who are fighting to save our world", introduces Nidhi Groodoyal. "I want to show both parts of the world and the effects of marine or atmospheric pollution on people," the Cottage resident added. He was given an award in the 19-30 age category.
His friends, he said, encouraged him to participate in the Live Painting competition. "They know I have an artistic soul," he laughs. A former student of Jugdambi State College, he has also been repeatedly rewarded in the art sector.
Nidhi Groodoyal has an unconditional love for everything related to nature. "My house is filled with all kinds of plants and that gives me indescribable joy. He expressed concern over the extent of pollution on our island but around the world.
The reporter pointed out that environmental protection is the responsibility of every citizen. "We can change things and make a difference. It starts with simple actions like not throwing your garbage in nature.»
Tajammul Sobha, 7: "I'm drawing a superhero who removes all the garbage on the planet"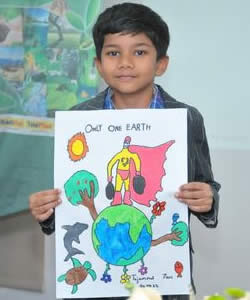 Seven -year -old Tajammul Sobha is the pride of his parents and grandparents. This young Curepipien won the "Live Painting Competition" in the 1-10 age category. "I love to draw and I love to paint," the little painter said quickly.
His father believed that painting and art were a family activity among the Sobhas. "His paternal grandfather was a skilled painter and made a lot of paintings and his mother also painted," he shares.
What does his painting represent? "I made a superhero who removes all the garbage on the planet. Then the plants can grow freely and give us oxygen," Tajammul Sobha explains with conviction.
This superhero was born into the imagination of his young creator and formed under his tiny hands, said his mother who did not hide her surprise at the ingenuity of her only child. She described him as a quiet child, gentle and very dedicated to his studies.
Tajammul, he stressed, has always shown great maturity and called for respect for nature. "He always gets up when he sees trash on the street or in nature. Despite his age, he still uses trash cans to pick up trash and if not, he puts it in his bag to throw at home, "he said.
The parents of little Tajammul Sobha say they are happy with his interest in the surroundings and that his efforts have been rewarded.
Teerooven Soopramanien, 15: "We are concretely not worried about environmental impacts"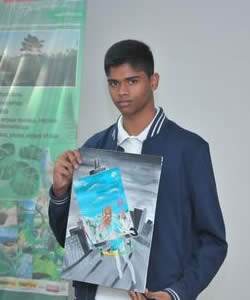 A student at the Lycée des Mascareignes, Teerooven Soopramanien announced that drawing and painting were his biggest passion and his "decompression method". The 15-year-old impressed the audience with her take on the theme and won in the 11-18 age category.
This competition, he argues, is an opportunity to combine art and the environment. "Environmental problems are real and worry us all," said the Petit-Raffray resident. Sustainable development is a concept close to his heart. "My painting represents our environment submerged and almost drowned in cement. This is primarily due to urban development that has occurred without considering environmental impacts. Teerooven Soopramanien will not work, progress must be made in a responsible manner.
Winning this competition, for him, is a confirmation that he is not mistaken in his position. "My parents asked their friends and relatives to see what the competition was promoting. They didn't ask me to vote for me but the idea. Seeing my message passed on to the public and to our acquaintances is a source of great pride. »
Krishen Maurymoothoo, 49: "My message is over"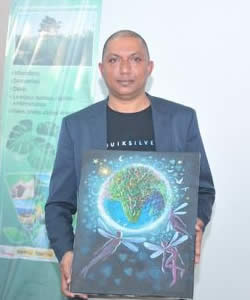 "Art has always fascinated me," said Krishen Maurymoothoo, who is classified in the artistic stream on the Higher School Certificate. This painting by the Senior Art Director depicts the planet Earth in the galaxy. "Earth is a beautiful and one-of-a-kind planet. I want to show that all other extraterrestrial creatures have come to admire the only planet full of life, "he explained.
He said he has always been concerned about protecting the environment. He has also been involved in several campaigns in favor of this cause. This category dedication of over 31 years adds to his extensive record.
Krishen Maurymoothoo has shown himself as a creative person with a taste for competition. "This victory warms my heart even more because Internet users are voting. It means that my painting has been liked and that the message has passed. It is a great reward in itself," he humbly commented.
Quatrebornais is of the opinion that more campaigns should be put in place to raise public awareness of the environmental cause. According to him, these competitions make it possible to reach as many people as possible and serve as a model to the younger generation.
"We need to wake up now, stop deforestation and reforest our environment because otherwise our beautiful planet is headed for definite destruction," he warns.
The purpose of the painting competition
The "Live painting" competition was held at Casela Nature Parks on Saturday June 4. In hand, 16 participants gave freedom of their creativity on the theme "One Earth" to generate ideas for the protection of our planet. They were four who won the competition after a vote of Internet users in four different categories. The winners left with several prizes offered by sponsors: Adamas, Plastinax Eyewear, Domaine de Grand Baie, Anichem Pharmacy and Arona Consumer Ltd, Indian Ocean Freelance Distributors, Subana Biscuits, Feroz Plaza, Mayil Spices, LIC, A&S Fastprint , The Endemic Nursery and the Beach Authority.
The Media Group Challenge celebrates all around
To celebrate the environment, whose World Day is observed on Sunday June 5, the Défi Media Group has set up a program of activities. These include the reforestation of part of the public beach in Flic-en-Flac. The beach at Pointe-aux-Piments was also cleaned up. An initiative of Défi Vert, Défi Digital, Radio Plus and TéléPlus was made possible thanks to the support of the Ministry of the Environment, Beach Authority, Absa Bank, Casela Nature Parks, Lions Club, Leo Club, Aqua Spring, Hmart, SEFA, ESAE, Renaissance du Nord Group, Tipo Grill, Amryz, Rodrigues Tourism Office, Indian Ocean Freelance Distributors, Plastinax Austral Ltd, LIC and Hash Clothing.