Director inseparable from the Harry Potter franchise, David Yates answered AlloCiné's questions about Fantastic Beasts: Dumbledore's Secrets, released yesterday in French theaters.
We owe him all the Harry Potter movies from The Order of the Phoenix as well as the two previous adventures of Norbert Dragonneau (Eddie Redmayne) and he's still the one we see behind the camera in Fantastic Beasts 3: the his name was David Yates.
During a visit to Warner Bros. Studio Tour London – The Making of Harry Potter, we spoke to the filmmaker, who was just as enthusiastic the universe created by JK Rowling, which she needs to know inside and out.
AlloCiné: This is your 7th film in the Harry Potter universe, how do you always come up with new ideas after all the time?
David Yates: The story takes us to new places in each film. For this, in Bhutan and Berlin, and there are also new characters like Eulalie Hicks. Each film is, in a way, also a series of small films.
Here there is a terrifying story of Erkstag prison with this huge creature called Manticore and then there is a tender story full of emotions between Grindelwald and Dumbledore who stop loving each other. That's why it's not hard to find a lot of things in scripts that keep my interest and excitement. It is a very rich source of inspiration.
How did you work with Mads Mikkelsen for the role of Grindelwald?
We want Mads to play a Grindelwald that feels real, especially down to earth. We don't want him to be a villain in the traditional sense. We want us to feel an emotional connection to him.
There's a very interesting scene at the beginning of the movie where he's in front of this Qilin – the Qilin will bow to you if you're worthy and good – and he won't bow to him. It was an important moment to capture for us, for me, for Mads: this feeling of rejection that she felt, which was not good.
And there are two or three moments in the film where we want to show his weakness and his isolation. That part of her is that he's not a bad guy supposedly. Mads, as an actor, is really, really naturalistic. He doesn't play characters, he seeks the truth, all the time. Exciting. (…) The key is to stay realistic and human: even if it's in this crazy magical world, it's real.
Is it important for you to include the past relationship between Dumbledore and Grindelwald in the film?
Yes, it is important. This relationship, for me, is the heart of the film. And I really want to tell that story in the most touching way possible. For me, the film is about breaking up with someone you love so much and have experienced once or twice in my life, I want it to conceive in the relationship of these two men.
Two men who love each other very much but break up, separated by politics. But somehow there was still a deep and lasting love between them, no matter how far apart. So yeah, for me it's explore what it means to break up.
Fans love to watch Hogwarts in Fantastic Beasts movies, is it as emotional for you as their return?
It's more nostalgia than emotion. For example, we went back to a setting [des films Harry Potter, ndlr] : the inn at La Tête de Sanglier. When I entered this space, I sat by the fire and thought about the last time I was there: with Dan, Rupert, Emma and Matthew playing Neville Longbottom for a scene from L 'Order of the Phoenix .
So when I was on set, I was like, "oh my god, that's where we shot that scene". Instead of moving, it was a nice warm feeling to be back in this place.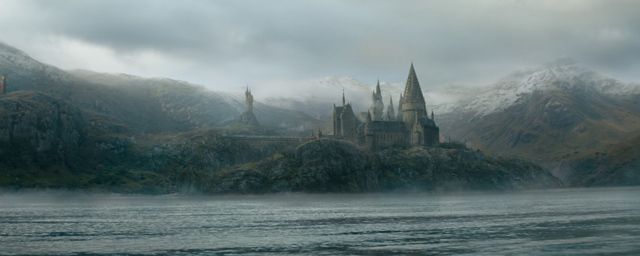 For the actors, shooting it in the Great Hall was very exciting. Jessica Williams was so funny, she was like a 7 year old when she arrived, she wanted to hug all the beautiful kids that were at the table that she was so happy. It was a combination of nostalgia for me and excitement for some actors.
But what is interesting is the return of this museum [le Warner Bros. Studio Tour London – The Making of Harry Potter, ndlr] and to find everything that is in the world where we have been working for 10 years. Very touching.
It's crazy that it's all in a museum, and it's beautiful. It's incredibly touching to realize that people go there every day to see these things and it's a wonderful feeling to think that they can see everything that our teams have done – the artists, the sculptors, the designers, visual effects people – done. . All the hard work that has been done for this franchise has shown and it's great.
The film's actors answered YOUR questions: