Emirates has announced that it will soon launch NFTs (non-fungible tokens) and exciting metaverse experiences for its customers and employees.
The airline has unveiled its plans to create iconic brand experiences in the metaverse, along with collectible and utility-based NFTs. The first projects have already begun, with a launch expected in the coming months.
Emirates also announced that its Emirates Pavilion site at Expo 2020 Dubai will be redeveloped into a hub of innovation, bringing together talent from around the world to bring to life the airline's future plans, including those related to the metaverse, to NFTs and Web3.
His Highness Sheikh Ahmed bin Saeed Al Maktoum, Chairman and CEO of Emirates Group, said: "Dubai and the United Arab Emirates are at the forefront of the digital economy, with a clear vision supported by practical policies and regulatory frameworks in areas such as virtual assets, intelligence and data protection.
"Emirates are constantly adopting advanced technologies to improve our business processes, improve our customer offering and enhance the skills and experience of our employees. We are excited about digital opportunities. vacant in the future and makes a significant investment in terms of finance and resources, to develop products and services using advanced technologies that will drive revenue, brand experience and business efficiency.
"It is fitting that our upcoming theme Emirates Pavilion at the Expo will be re-established as a hub to promote the latest experiences in the future in line with the UAE's vision for the digital economy."
Meanwhile, Emirates continues to partner with industry partners on its Web3 strategy and talent recruitment for its pipeline projects.
The airline has already pioneered a number of innovations, including virtual reality (VR) technology at emirates.com and its Emirates app to provide an immersive 360-degree 3D view of its onboard cabin interior experiences and the first The airline's VR app at the Oculus Store, which gives users precise, life-size and interactive experiences inside the cabin aboard Emirates 'flagship A380 and Boeing 777-300ER Gamechanger aircraft. .
At the Emirates Pavilion during Expo 2020 Dubai, the most popular attraction among "future commercial aviation" themed experiences is the Virtual Reality Journey showcasing future aircraft cabin interiors.
FTE EMEA Futurist Keynote Announced: Cryptos, NFTs and the Metaverse – The Next Growth Frontiers?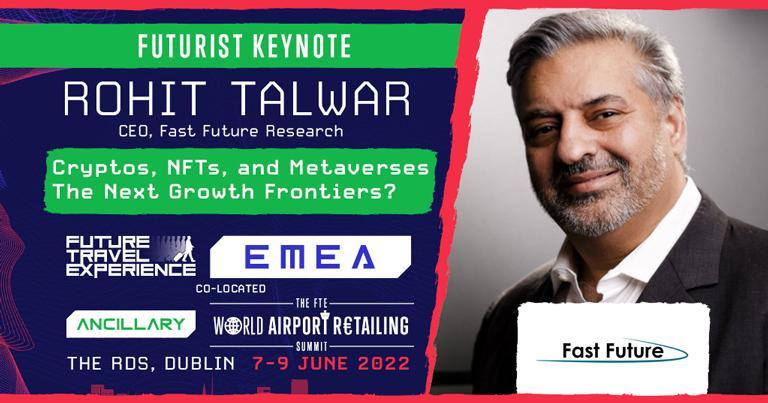 The adoption of NFTs paves the way for the development of new solutions in the travel industry. This will be a highlight of the upcoming FTE EMEA show in Dublin from June 7-9, when Rohit Talwar, CEO of Fast Future Research, will give a keynote titled "Cryptos, NFTs and the Metaverse – The Next Frontiers of Development?'. In addition, Lufthansa Innovation Hub Managing Director Christine Wang will join a panel of industry innovators to discuss the need to use new technologies and create new innovative approaches to help drive to change the industry. industry essential to its future. Click here to browse conference agendas and register to attend.